Good Bots Vs Bad Bots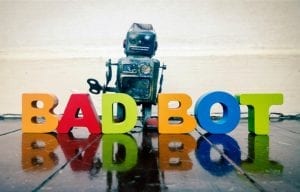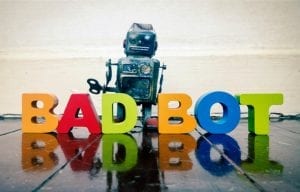 Bots are programs created to perform automated repetitive tasks on the internet.  There are, simply speaking, two categories of bots: Good Bots and Bad Bots. Basically, good bots help in creating the required visibility of websites on the internet. For instance, when you search for a website or phrases related to the website's products or services, you get relevant results listed on the search page.  Bad bots perform malicious acts, they steal data, damage sites or networks. They can also flood your site with far more data requests than it can handle. This activity can stress Web servers, and choke the available bandwidth. Bad bots are often used to scan servers, computers or networks to find exploits.
Bad Bots Are On The Rise
Bad bots are on the rise according to a recently released report. Bad bots accounted for 1 in 5 website requests according to the 2019 Bad Bod Report. These bots are also getting smarter, as a matter of fact, the majority of those bots (73.6%) are classified as Advanced Persistent Bots, which means they have ability to cycle through random IP addresses, enter through anonymous proxies, change their identities, and mimic human behavior, the report stated.  Amazon is the leading ISP for originating bad bot traffic, according to the report. Despite the fact that 53.4 percent of bot traffic originates from the United States, Russia and Ukraine combined make up nearly half (48.2 percent) of country-specific IP block requests.
Planetguide: Ask The Experts
Are you worried about Bad Bots attacks? We can provide comprehensive solutions to protect your systems from both external and internal security threats. Call Planetguide at 504-888-5384. We offer a variety of affordable packages that can help to get you seen on the search engines. Call Us Today!