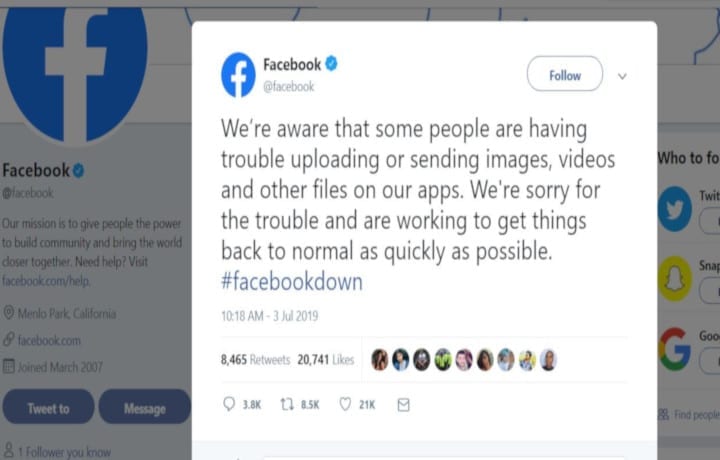 Facebook: Working To Get Things Back To Normal As Quickly As Possible
On July 3rd many Facebook users noted issues loading images, videos, and other data across its apps. Some images would not show up on Facebook's News Feed. On Instagram some stories could not be seen and some messages in WhatsApp would not send. Facebook said in a tweet: "We're aware that some pole are having trouble uploading or sending images, videos and other files on our apps. The outages started around  8AM ET, according to multiple reports. "We're sorry for the trouble and are working to get things back to normal as quickly as possible," the social media giant added.
Protect Yourself From A Changing Social Media World
Social Media is great free advertising, but don't put all of your efforts into something you will never own. If you are using Facebook to promote your business on days the social media network is down or battling issues you loose an advertising tool. You do not have any control over these platforms. However, you can own and control your own website (unless you are using a Wix site or proprietary platform). Think of it almost like renting an apartment. You would never want to invest too much in upgrades for an apartment you will never own. But, your house is a different story. Upgrades to your own house become an investment that improve the value of your home. Your website is something you have full control over and the more you invest, the more effective it will become. You decide in which direction you want to go with it and you can change it anytime you want. Just like with a house you own, you can make modifications according to your taste. Social media platforms have requirements you have to adhere to for certain advertising purposes. So don't invest in something that you can't control and that could vanish any day- get your own website and take control of your advertising strategy.
Planetguide: Ask The Experts
If you need help developing content, designing a website, or even SEOing your website, call Planetguide at 504-888-5384. We offer a variety of affordable packages that can help to get you seen on the search engines. Call Us Today!