Local Polls Can Impact A Business Online Visibility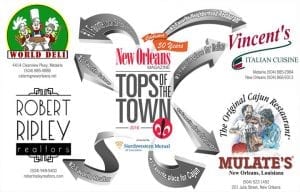 Tops of the Town is a poll that New Orleans Magazine put out to local New Orleanians in their magazine and online. The purpose is to get locals to give their real opinions on what they think are the Tops of the Town in New Orleans ranging from best Gumbo to Best Realtor. Over 9,500 people voted to come up with the results and many of the winners including Planetguide's Clients. Click here to see all of the results.
Therefore, the Planetguide team would like to congratulate our clients who won the popular votes from New Orleanians due to their great products or services.
Mulate's The Original Cajun Restaurant
Mulate's won the favorite place for Cajun Food and one of the favorite places for Gumbo. 
Mulate's is known as the original Cajun restaurant, famous for preserving and celebrating the food, music and culture found in the small towns and along the bayous of south Louisiana. But the restaurant that prides itself on being true to its roots would never have opened its doors if owner Kerry Boutté hadn't ventured out of Cajun Country and into restaurants and dance halls of New Orleans, Houston and even Europe. Mulate's has a huge menu from a fabulous gumbo to seafood specialities. Check out their menu here.
Vincent's Italian Cuisine Restaurant
Vincent's won best Italian restaurant and one of the favorite neighborhood restaurants. 
Vincent's Italian Cuisine was founded in 1989 by native New Orleanian Vincent Catalanotto. From a large, close Sicilian family, Vincent grew up eating wonderful food prepared by his parents who were both great cooks. Vincent learned to love and appreciate food at an early age, and then spent most of his life working in the service industry, fueling his passion for the restaurant business while allowing him to hone his innate ability to create fabulous meals and to make people happy. His years of experience as a waiter convinced him that people like to eat food that is familiar, but which has a spark of uniqueness about it. Vincent's as a great Italian menu that includes everything you may dream about when it comes to Italian food. Check out their menu here.
Robert Ripley Realtors
Robert Ripley won one of the favorite New Orleans realtors.
Robert Ripley began his real estate career in the French Quarter in 1980 with one of the historic districts first condominium restorations – converting a long vacant building into nearly twenty residences complete with a lush, tropical courtyard. With more than 20 years of experience all over the metro New Orleans market, Robert will professionally represent you with complete customer care from introduction through closing. A French Quarter property owner and resident since 1984, Robert counts the Human Rights Campaign and animal beneficent organizations such as the Mystic Krewe of Barkus and the LASPCA as his passions. Check here for some of his listings.
World Deli
World Deli won favorite local sandwich shop and one of the top New Orleans Caterers. 
World Deli strives to provide each customers with the freshest, most flavorful food for any event large or small. Their party trays not only taste delicious, but are a real feast for the eyes. They offer everything from the classic finger sandwiches to New Orleans originals like crawfish pasta and mini muffulettas. Click here for the extensive catering menu.
Congratulations to all of these great Local businesses and thank you to all New Orleanians for voting for the best!