How To Increase Traffic To My New Website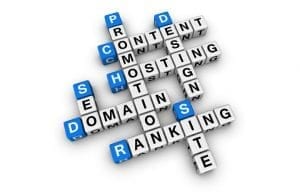 Now that you have your pretty new website, you have to make sure that people see your products and your new site. Nowadays, it is getting more and more difficult to get through the "clutter", but there are a few things you can and have to do to ensure your website gets the attention it deserves.  Remember, your website is one part of your online marketing strategy. You have it to let your clients see the latest information about your business.
Search Engine Optimization (SEO)
When a web user searches Google's toolbar for a local business, such as a plumber or an AC repair company, near me, the user wants to see results that reflect that search. This is where SEO comes into play.  No single SEO factor will guarantee high organic, FREE, search rankings. However, in order to be ranked at all, you will need a website. A website should flow logically with easy to find information. If a website is confusing or just hard to use, a potential customer will jump away from your site quickly. The search engines take note of this, and may rank your website lower, if at all, for future user searches. If your website is not mobile friendly, SEO is the least of your problems. Over 79% of users searching the web, use cell phones. If your website is not mobile friendly or is not optimized for cell phones, you are most likely losing a lot of potential customers. People look at their cell phones all of the time, and if they are searching for your business, you want your website to show up at the top.
New Content Development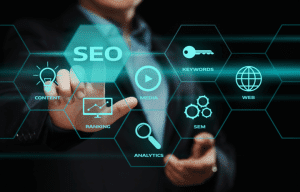 When you write content  for your page, make sure it is SEO friendly, which means it is written in a way that is preferred by search engines. All of the web pages on your website need to have relevant content focused on keywords. The keywords should be words that people would be searching for to find your services or business.  Each page should have about 300 words or more to make an impact not only for your site but also for search engines. Some other  things engines look for include headlines and correctly named pictures. Blogs are one way  to create new content for your website on a regular basis. They are articles that are typically about or incorporate elements of the business as part of the content. Search engines index blogs. You should post at least one blog every month, so the search engine knows that you are keeping your content updated and relevant.  Remember, blogs are your chance to educate users about your products and the latest developments in your industry. Use them to explain to clients why they need your latest products. Blogs, just like the content on your web pages, should have at least 300, relevant keywords, headlines and correctly named pictures.
Social media sharing/ Social media advertising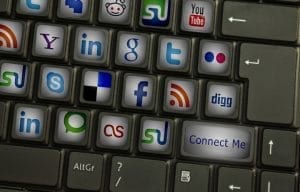 Social media is another great way to increase traffic to your website. Post blogs and stories you write for your website on several platforms and, of course, make sure to link them back to your site. There are plenty of platforms out there you can use including, Facebook, Pinterest, Instagram, Snapchat and others. Not every social media network works for every business. Take a closer look at your products and services to find out which ones will work best you.  Once you found your preferred social media outlets advertise there. You can boost posts to targeted audiences to make sure that potential clients learn more about your business.  You can target the geographic location, gender and age of your potential customers. The more specific your target audience is defined, the more effective your ad will be. Many business owners tend to forget about Youtube. However, experts rank Youtube as the second biggest search engine (right after Google). So you should have a Youtube page and try to post videos regularly. You could feature your latest products, or show customers how  your services will benefit them.
Google My Business & Google Advertising
As just mentioned,  Google is the most used search engine and you want to make sure that Google ranks your website high.  That's why you need a Google My Business  (GMB) account.  Think of GMB as the heart and soul of the Google local SEO platform. A GMB account gives clients in your local area an easy way to connect with you, especially if they do a mobile search. GMB is an easy  way for  you to control all the information that Google has about your business. When setting up your GMB profile, the most important things to remember is to adhere to Google's GMB guidelines.  Make sure you use the correct name, address and phone protocols for your business. Google works with local SEO efforts by scanning the internet to find any mentions of the name, address and phone number of your business. Once it finds this information, the search engine compares it to what it finds elsewhere, including the post office, state agencies and phone records. Your ranking in the search engine is determined partly by how  consistent that information is on multiple sites, including your own website. If inconsistencies are found, your rank will drop lower. Obviously, there is also the possibility that having the wrong address or phone number on a couple of sites will confuse customers, who won't be able to locate or contact you. Once you entered your address make sure that the pin Google drops on its map for your business is at the correct location. Again, if it is not this will confuse potential clients and will make it harder for them to find you. Keep in mind that some ride-sharing services use google maps. Once you have an account create posts regularly to keep clients informed about your business. Your posts can include upcoming events or promotional offers. You will see that the posts in Google Map view and on Google search view will vanish after a couple of days. Try to create at least two posts per week.
Advertising with Google (Google Ads) can be highly effective when done correctly. Setting up a campaign can be tricky. Use search terms and key words that describe your product as best as possible, since business gets found by people on Google precisely when they're searching for the things that you offer. The better you define target audiences and geographic target areas the more bang you will get for your buck. Don't waste money on generic key words!
Planetguide: The Online Advertising Experts
Your time is valuable, you need to concentrate on your day to day operations, a online media consultant can take care of the online advertising for you. We are  Google Ads Partners and are Google Ads certified. Furthermore, we can help develop content, design a website, or even SEO your site, call Planetguide at 504-888-5384. We offer a variety of affordable packages that can help to get you seen on the search engines. Call Us Today!